How do Solar PV Modules Work?
PV cells are made from layers of semi-conducting material, usually silicon. When light shines on the cell it creates an electric field across the layers. The stronger the sunshine, the more electricity is produced. Groups of cells are mounted together in panels or modules that can be mounted on your roof.
The power of a PV cell is measured in kilowatts peak (kWp). That's the rate at which it generates energy at peak performance in full direct sunlight during the summer. PV cells come in a variety of shapes and sizes. Most PV systems are made up of panels that fit on top of an existing roof, but you can also fit solar tiles.
How a Solar Photovoltaic System Works?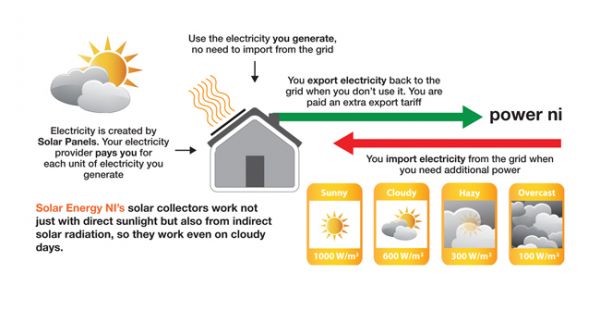 What Maintenance is involved?
Unlike Wind Turbines Solar Photovoltaic Systems,(Solar PV) requires practically no maintenance at all because Solar Photovoltaic has no moving parts, they call it the "Fit and Forget System". The equipment we install is of high quality and all come with manufacturer's warranty (25 years for the panels and 5-10 years for the inverter). If you wish additional years of warranty may be purchased for some of the inverters. The panels from time to time might need a wash with warm soapy water, although the panels that we install have a selfcleaning surface and usually rain water does the trick.
Solar Energy NI can also set up a yearly maintenance contract to ensure the entire system is operating to its full potential year on year.
Do we offer financing?
We understand that a Solar Photovoltaic System,(Solar PV) is a big investment and although smaller systems can be self financed, not everyone can afford the intial outlay of the entire installation We have a number of Finance Brokers that are willing to speak with you with regards finance for your Solar Photovoltaic System (Solar Pv).
What happens when you make contact with us?
Once you contact us regarding an interest in a Solar Photovoltaic System (Solar PV) on your property, we will:
Arrange a site visit on a day and time that suits you to carry out our survey of the property.
Once we have carried out the survey a member of our design team will design your system so as you will receive the best possible performance from your system.
Return a quotation to you within 2-3 days of the survey along with the system specification and other documents.
If you accept our Proposal we will arrange a day that suits you for our install team to come and begin the installation.
Test and Commission your system.
Make an application to NIE to arrange for an import/export meter to be installed after the PV system has been commissioned. (This meter is installed so you know how much surplus electricity you are selling back to the grid.)
Register your system with the Microgeneration Certification Scheme. You will then receive our MCS certificate in your O&M Manual so as you can claim your ROC's payments.
Present you with your Operation and Maintenance manual for your system.